SOLD OUT ONLINE - TICKETS AVAILABLE AT THE DOOR. $25 & $15 - Fundraiser March 29th, 2019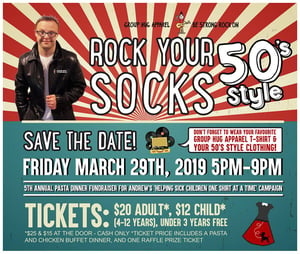 SOLD OUT ONLINE - TICKETS AVAILABLE AT THE DOOR. $25 & $15 - Fundraiser March 29th, 2019
$

20.00
Andrew's Annual "Be Strong Rock On" Fundraiser Event.
Purchase your tickets then print off your receipt & bring it with you.
It's that easy.
OR For supporters that would like to contribute to the event but cannot make it, you will have the option to have their ticket(s)
You can buy a ticket and have us pass it on to a local non-profit group! It's a win-win!
Please type in the "instructions to seller" area at checkout - "Paying it Forward" and your kindness will paid forward to a local non-profit group helping individuals with an intellectual disability in our community.
On Friday, March 29th, 2019 Andrew we will be hosting his 5th Annual Pasta Dinner Fundraiser for Andrew's
'Helping Sick Children One Shirt At A Time' Campaign
at Colasanti's Tropical Gardens, 1550 Road 3 E, Kingsville, Ontario.
This year's theme will be 'Rock Your Socks – 50's Style'. Andrew encourages everyone to get their leather jackets, poodle skirts and hair gel out, along with their favourite Group Hug Apparel t-shirt, and of course their wildest socks.
Tickets purchased in advance for this year's event are
$20 for adults and $12 for children 12 and under.
(Prices at the door will be $25 and $15 respectively.)
Ticket price includes a pasta and chicken buffet dinner, one raffle prize ticket and goofy golfing from 5:30 - 7:30
Other events being planned for the evening will be a photo booth complete with our popular 'Andrew Heads', a bake sale, face painting and other fun things
We are very excited to be offering a 'Pay It Forward' option to our ticket sales this year.
Pasta & Chicken buffet served from 5:30 - 7:30
Bake Sale
Photo Booth Area
Free Goofy golfing from 5:30 - 7:30
Raffle Prizes, 50/50 draw and more
If you would like to sponsored this fabulous event: Please contact Karen Pickle, Andrew's mom at 519-819-5250 or by e mail - grouphugapparel@gmail.com